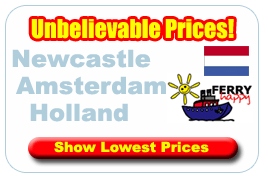 Ferries To Amsterdam
Looking for that Cheap Ferry To Amsterdam or the Ferry To Rotterdam can be tricky if you are not sure where to begin. You want to be sure of the best ferry prices for your Amsterdam ferry crossing. You also want to be certain of a fast and reliable service with a trusted ferry operator. Overall when it comes to taking a Ferry from Newcastle to Amsterdam you can rest assured that by booking your ferry ticket through us are in safe, reliable and above all "great value for money" hands!
Newcastle Ferry To Amsterdam With DFDS
The comfort on DFDS Seaways Ferries to Amsterdam have much more in common with cruise ships than most other cross-channel ferries, so you can expect a fantastic choice of luxury cabins as well as plenty of shops, restaurants, bars & superb facilities. If you where to book a mini cruise there would be a coach awaiting on arrival for you to take the last leg of the journey into the city Amsterdam. If you would rather take the train then there's Centraal Station or you could even continue with the Fast Flying Ferries' jetfoil service. Cabins start at £69.00 per person (one-way) although there are frequent promotions bringing the price down.

DFDS Seaways operate a daily Ferry to Amsterdam between Newcastle and the port of Ijmuiden. DFDS ferries leave their respective ports during the evening and arrive the following morning. The complete journey time is approximately 15 hours. Also the P&O Service runs from Hull to Rotterdam: Ferry To Rotterdam
Ferries to France
Looking for cheap Ferries to France. Ferries to France includes prices on all Ferry France journeys with all the leading operators including; Sea France, P&O France, Condor Ferries, Brittany Ferries & LD Lines. Ferries to France guarantees that you won't find cheaper anywhere else so why not take a look now and find the package that suits you best ! Visit our website now at www.ferriesfrance.org.uk
Harwich Ferry To Amsterdam With Stena Line
There are daily sailings with Stena Line between Harwich and the Hook of Holland. Stena Line's twice a day High Speed Service reaches speeds of 75 km per hour and makes the crossing to Holland in a respective 3 hours & 40 minutes approx. Stena Line's overnight crossing takes a leisurely 6 hours & 15 minutes but please take note that foot passengers are not allowed to travel on this service. Stena Line operates third option crossing which is the Day Superferry service which is a good bet for anyone traveling with a caravan as there are no restrictions. The length of the crossing is reflected in the ticket prices which start at £26.00 per person for the High Speed Service.
Hull Ferry To Amsterdam With P&O
There are every day sailings with P&O Ferries between Hull and Rotterdam, Holland. If you're not travelling by car on your ferry from Hull to Amsterdam then you'll be transported to Rotterdam Centraal Station by bus where you will be able to catch the train to Amsterdam for around €12. P&O Ferries set sail at 21:00 and arrive in Rotterdam the following day at around 08:00 the followin morning. As well as superb cabins P&O ferries boast a fantastic selection of restaurants & bars to wine & dine. There's also fantastic live evening shows, a cinema and casino. Fares depend on the season and the day of travel (mid-week tends to be the cheaper) but look out for special mini cruise offers.
Amsterdam
City breaks to Amsterdam have been attracting tourists for many years and for numerous reasons. Many centuries ago since the time of the diamond traders of the Middle Ages, the intrigue, mystery and romance of Amsterdam has been one of Europe's most memorable experiences.

A short break to Amsterdam has a lot more to offer than the smoke filled cafés, narrow cobbled lanes & the red-light district, much of Amsterdam's appeal comes from the peaceful beauty of its canals meandering through the historic city centre. Few visitor's will have taken a trip to Amsterdam without going on the obligatory canal trip. Apart from the beauty of the canals another reason for the popularity of Amsterdam is to offer a duck's eye orientation of this truly fantastic city. Out of the canal's there will be much more familiarity with the historic buildings and city centre sights, ensuring you you will make the most of your trip to Amsterdam.

Whether it be you are taking a weekend break to Amsterdam or looking to spend some time longer the city has a lot more to offer than sex, drugs and culture. While away the hours in a café watching the world go by, shop to your hearts content in Amsterdam's bustling shopping streets, or perhaps even watch some football at Ajax's impressive Amsterdam Arena.

Why not book your cheap ferry crossing from Newcastle, Hull or Harwich today...


---
Amsterdam Ferries | Cheap Ferry to Amsterdam | Ferries to Amsterdam | Ferry to Amsterdam | Hull to Amsterdam Ferry | Newcastle to Amsterdam Ferry | Home Page